EXECUTIVE LEADERSHIP TEAM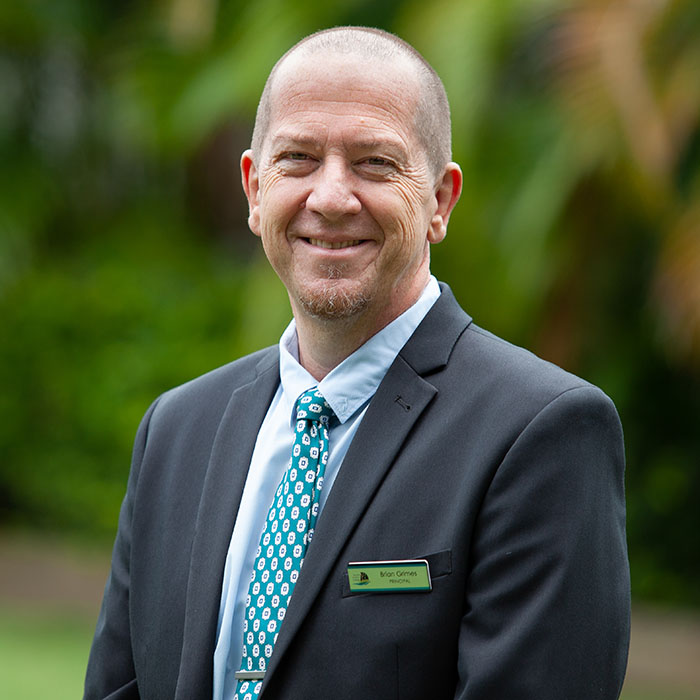 Brian Grimes
Principal/CEO
The Principal is the Chief Executive Officer of the College and reports directly to the College Board.
The College Principal serves as the spiritual, educational and business leader, responsible for managing the policies, regulations, and procedures to ensure that all students are supervised in a safe, traditional, Christian learning environment that meets the approved national and state curricula, and enables the College's Mission. This includes ensuring that a vibrant Christian life is active in the College; aspects of which include fostering Biblical teaching, prayer, worship, gifts, wisdom and mission.
Achieving academic excellence requires that the College Principal works collaboratively to direct and nurture all members of the school staff hired by the Principal or Board of Directors, and to communicate effectively with parents. Inherent in the position are the responsibilities for scheduling, curriculum development, extracurricular activities, personnel management, emergency procedures, and facility operation.
Mr Grimes commenced his duties at Bayside Christian College in January of 2022, following four years as Principal of Swan Valley Anglican Community School in Western Australia, and then more recently as the Principal of A.B. Paterson College from 2012-2019, and from 2019-2021 he served as the Executive Principal/ Chief Executive Officer of A.B. Paterson College.
Mr Grimes has an extensive history of educational leadership and through his leadership A.B. Paterson College developed to be one of the finest College's in Australia. He has a strong background in academia and pastoral care, and has demonstrated a high level of business acumen, an ability to develop highly effective leadership teams and brings a commitment to faith and the development of young people in an inclusive and caring environment.
Noela Ensbey
Director of Curriculum
The Director of Curriculum is a member of the Executive Leadership Team and reports directly to the Principal on all matters pertaining to curriculum.
With a wide range of experience in Education, Business and the Church, Noela joined the College as Director of Teaching and Learning and Head of Senior School in January 2018.
Completing a Bachelor of Applied Science – majoring, with Honours, in Mathematics and ICT, a Graduate Diploma in Education and a Graduate Diploma in Business Information Processing, Noela has held the position of Head of Mathematics, Head of Senior School, Director of Teaching and Learning and Acting Principal at various Independent Schools.
Working in Industry as a Company Director, a Computer Programmer and a Finance Manager and in the local church as a Youth Leader, Kings Kids Director and Girls Brigade Captain, allows Noela to assist students and staff in the development of the whole person.
She thoroughly enjoys Sport and has coached Netball, Tennis, Athletics, Swimming, Cross Country and Volleyball and counts it an absolute privilege to be able to share in the development of this College.
Kathy Jamieson
Director of Learning Enrichment
The Director of Learning Enrichment is a member of the Executive Leadership Team and reports directly to the Principal on all matters pertaining to the inclusivity of the curriculum, student support and the academic growth and enrichment opportunities available to students. The Director of Learning Enrichment has a special role in the development of staff efficacy in inclusivity, differentiation of the curriculum and enrichment practices to best support student needs.
Kathy was appointed to this position in January 2020. She commenced her teaching as a Secondary Commercial and Maths teacher, working at a number of State Secondary schools, including Work Experience Coordinator, Year Level Coordinator and Literacy Coach. After over a decade of Business teaching, she began her passion for special education and other students in need, working across Early Intervention, Primary and Secondary teaching and leadership roles within this sector of education, across State, Catholic and Independent school, establishing Learning Enrichment departments at some of these schools.
Kathy acts as an advocate for students with any learning and/or social emotional support needs, working with families and staff, to ensure students have opportunities to become life-long learners and independent members of their community.
Sam Kanoun
Director of Business and Finance
The Director of Business and Finance is a member of the Executive Leadership Team and reports directly to the Principal/CEO on all matters pertaining to the business and financial operations of the College. The Director of Business and Finance has a special role in reporting financial outcomes and forecasts to the College Board to support their Governance role and to the Principal/CEO to support the Office's executive function.
Mr Kanoun has over 25 years of experience in finance and has been leading the finance teams of schools and other medium and very large global organisations for the last 18 years. He has extensive experience in financial reporting, taxation, governance, system implementation, financial modelling, strategic plans, budgeting, and forecasting. Mr Kanoun has gained his experience by working in many industries, including health, education, tourism, global commercial real estate, and leading charities.
Mr Kanoun has a Bachelor of Commerce (Finance) from Macquarie University and is a graduate of CPA Australia.
Amanda Mulder
Head of Junior School
Mrs Mulder held the position of Head of Department (P-7) from 2010 until she emigrated to Australia in 2016. This role required her to support and assist the Principal and acted in the Principal role during his periods of leave. She was a panel member for the adjudication and appointment of teachers, investigation officer at disciplinary hearings and member of the SGB. Her responsibilities included: timetabling, staff welfare, submitting an analysis of results to the DOE, implementing intervention plans and improvement strategies, submitting quarterly schedules to the DOE, establishing internal moderation reports, developing subject/phase improvement plans and monitoring moderation records to reflect quality assurance of teacher files. She was the liaison officer with the University of Nelson Mandela in placing and mentoring pre-service teachers, implemented an evidenced based synthetics phonics program across P-3.
Other responsibilities included: the compilation of policies in support of teaching excellence, conducting co-curricular activities with surrounding schools, member of several departmental committees, overseeing all academic activities and subjects taught. She has been Coordinator for the last 2 years and was appointed as Head of Junior School at the start of 2023.